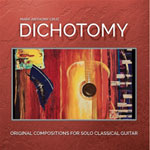 Track Listings
Dichotomy No. 2
I. Prelude
II. Rondoletto
Dichotomy No. 1
I. Melodia
II. Saltarello

Five Pieces in C
I. Prelude (Paco's Lament)
II. Karla Kristene
III. Katherine
IV. Zachary
V. Self Portrait

Tempus Fugit
Triduum
I. Communion
II. Crucifixion
III. Resurrection

DICHOTOMY—2015

The first of a three CD series, this particular recording is the third all-original solo project by Cruz. The 2nd movement from Dichotomy No. 1 uses a daring blend of rondo form and theme and variations. Dichotomy No. 2 was commissioned by guitar aficionado, Martin Olson, and features a Turina/Impressionistic inspired Prelude. Five Pieces in C is a light musical family portrait using like harmonic elements for unification among the movements. Tempus Fugit is a capricious guitar duet composed for the Hanser-McClellan duo. Triduum was commissioned by Brett Floyd and is a programmatic work based on the last three days of Christ—the unusual dissonant tuning for this piece underscores the weight of topic.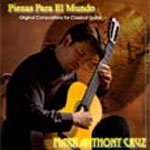 Track Listings

Triptych No. 2

I. Esperanza

II. Vínculacion

III. Fandanguillo

Bachlava

The Portal

I. Questioning

II. Enlightened

Six Contrapuntal Etudes

Tres Momentos Modernos

I. Spiritoso

II. Allegro Agitato

III. Movido

Introduction and Fantasie

Tribute in D Minor

I. Stern

II. Metheny

III. Scofield

Divertimento

I. Rondo

II. Sonata

III. Air

IV. Capriccio


PIEZAS PARA EL MUNDO—2009
This is the second CD in Cruz's series of original compositions. Featured on the internationally syndicated radio show .Classical Guitar Alive' only two weeks after its release, Piezas Para El Mundo is sure to satisfy the critical ear and captivate the attention of all who love classical guitar music. This CD includes traditional style compositions but also explores a fusion of modern style with classical structure and symmetrical melodies. It also includes Cruz's composition 'Questioning' (from The Portal) as published by Soundboard Magazine.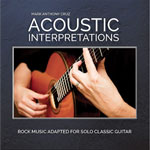 Track Listings
Where the Streets Have No Name
Synchronicity II
The Trees
Love of My Life
Everlong
Take on Me
Rain Song
Folsom Prison Blues
Love Hurts
Somebody That I Used to Know
Penny Lane
Bridge Over Troubled Water
ACOUSTIC INTERPRETATIONS—2015


This recording was inspired by Mark's brother, Edgar, who has released a series of remarkable cover tune recordings throughout his career. This recording features a blend of some of Mark's best rock transcriptions and arrangements from the Beatles to progressive. Notably, Queen's Love of My Life lends itself beautifully to the guitar with its neo-Romantic style reminiscent of a Schubert art song while Rush's, The Trees, is well developed with contrasting sections and odd meters. Cruz takes the most liberty with the opening U2 track by reinterpreting it as a ballad, incorporating new material and employing chord substitutions with a dash of impressionism..
PEQUENAS PIEZAS PARA MI PADRE
Track Listings

Florinda
Magdalena

Triste

Plomotor

Jardin de Cacto

Socorro
Danza para Amparo
Herminia

Alvarado

Dos Cantantes

Nona

Matehuala
Real de Catorce
Vinculacion

San Miguel de Allende

No. 60

No. 54

No. 58

No. 57

Fuego y Lluvia

Prelude

Allemande

Courante

Sarabande

Bouree

Gigue

Zachary's Welcome


PEQUEÑAS PIEZAS PARA MI PADRE—2004
As a young man, Mark was encouraged by his father to compose for the guitar. His father would also insist "always write it down so that your work will not go to waste". Twenty-five years after hearing his father's words, Mark pays tribute to him in this collection of all-original solo guitar works influenced by Spanish, classical, baroque and tonal twentieth-century music.

Track Listings

Bounce

Fuzz

Have Faithe

Free Delivery

Komputer

Another Time Perhaps

In Tension

The Wrath of Steve Summer

Define Love

Ryan

FUZZ—1996
Fuzz is a collection of all-original contemporary jazz compositions. Unlike his solo guitar recordings, this CD captures Mark in rare form with his electric guitar performing funk, samba, traditional, ballads and rock influenced jazz. Mark is accompanied by Brian Gorrell on sax and keyboards, Mike Walker on drums, Todd Lawton on bass, Woody Lingle on bass, Victor Rook on bass and Gary Clardy on sax.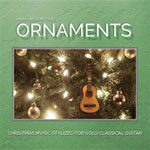 Track Listings

The Christmas Song
March of the Toys
Theme & Variations on God Rest Ye Merry, Gentlemen
What Child is This/Greensleeves
White Christmas
Angels We Have Heard on High
Little Drummer Boy
We Wish You a Merry Christmas
Theme & Variations on Good King Wenceslas
We Three Kings
Have Yourself a Merry Little Christmas
My Favorite Things
Santa Claus is Coming to Town
Theme & Variations on Coventry Carol
Mary, Did You Know?
ORNAMENTS— 2015
Cruz's very first recording was a Christmas collection titled, In the Key of Christmas (1995). Time has given him the luxury of improving his Christmas catalog by expanding on existing interpretations while adding new ones to offer this new definitive solo guitar collection.
Track Listings
Morning Has Broken
God, Our Father, We Adore You
Joyful, Joyful, We Adore Thee
In The Garden
Theme & Variation on Fairest Lord Jesus
It Is Well With My Soul
Come, Thou Long-Expected Jesus


Brethren, We Have Met to Worship
Battle Hymn of the Republic
Crown Him With Many Crowns
Rejoice, The Lord is KingThou Almighty King

HYMNODY VOLUME II— 2001

An extension of Hymnody, Hymnody Volume II proves that new ideas are not intangible. Echo effects, Irish influence, variations, Spanish rasgueados, snare drum emulation, imitative writing and Travis picking all contribute to this well rounded recording of hymn arrangements for solo guitar. This recording is also available through Amazon.com
Track Listings
All Creatures of our God and King
Christ, the Lord is Risen Today
Be Thou My Vision
Amazing Grace
Praise to the Lord, the Almighty
Holy, Holy, Holy

Softly and Tenderly

How Great Thou Art
A Mighty Fortress is our God
Great is Thy Faithfulness
Just as I Am
Doxology
HYMNODY— 1999
Finding his way back home after a long departure from classical music, Mark returns to his nylon stringed instrument and follows his spiritual urge to arrange hymns for solo guitar. All selections are well developed, creative and inspired works.

"I thoroughly enjoyed listening to the "Hymnody" recording by Mark Anthony Cruz. I appreciate his fine arrangements and playing of them. It is rare to hear hymn arrangements of this quality."

-Christopher Parkening, world renowned recording and concert guitarist — Burbank, California