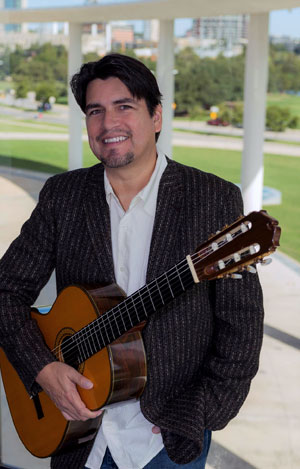 Mark Anthony Cruz earned his M. M. in guitar performance at Texas State University, San Marcos, where he has been professor of guitar for 18 years.

As a composer, Cruz has been published by Shawnee Press, Soundboard Magazine, MelBay and Clear Note Publications while managing his own company, MAC Publications. He was the first prize winner of the ACG sponsored composition competition in 2006, '07, '08, '10 and '17. He has received several commissions from large institutions, DMA students and private artists. Mr. Cruz's Triptych for solo guitar has been performed internationally by guitar virtuoso Adam Holzman. Such notable artists as the Presti Trio, TxGQ and the Hanser/McClellan Duo have also performed his work in addition to numerous high schools and universities across the country and abroad.

As a performer, Cruz placed 1st in the 2013 Winfield International Fingerstyle Competition. He was a feature artist at the Eastfield Guitar Festival in Dallas, TX in 2008; Classical Minds Guitar Festival in Houston, TX in 2009 and '14; Brownsville Guitar Ensemble Festival and Competition in 2014; Dr. Joseph Williams' Classical Guitar Conference in 2017 and at Dr. Isaac Bustos' Houston Classical Guitar Workshop in 2016 and '17. Five of Cruz's CDs have been featured on the internationally syndicated radio program Classical Guitar Alive hosted by Tony Morris. Two of his all-original Cds received positive reviews in the scholarly periodical, Soundboard.

As a teacher, Cruz's students have won first and top prizes in the national Brownsville Guitar Ensemble Festival. In 2015, he taught at the Narnia Music Festival in Narni, Italy. Many of his former students are active in the Texas education system.

Regarding other performances of interest, Cruz's rock band Pavlovian Dogs (active in the late 90's) opened for Jackyl. In 2005, he did a month-long tour through Europe as a bassist entertaining at US military bases. Cruz also had the honor to perform on stage with Australian guitar legend Tommy Emmanuel in 1997. Cruz was twice a soloist with the Oklahoma City Philharmonic performing Vivaldi concerti. He has also performed countless times with brother, Edgar Cruz, famed for his solo guitar transcription of Queen's Bohemian Rhapsody.

Mr. Cruz resides in Austin, TX with his wife and two children.